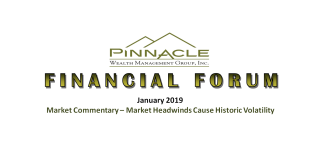 Financial Forum January 2019
Market Commentary – Market Headwinds Cause Historic Volatility
Is this as good as it gets?  Will we have a recession in 2019?  Where will we go from here?  These were just a few questions investors grappled with toward the end of last year and into the new year.  And why wouldn't they?  After all, in the final three months of the year, the S&P 500 registered its worst quarterly performance in seven years and ended 2018 with a negative annual total return for the first time since 2008.
Contrary to most of the headlines, the sharp declines in stocks weren't directly driven by trade wars or ongoing political dramas, all of which were with us for the majority of 2018. Instead, the breakdown in stocks was driven by a trifecta of classic economic and market concerns emanating from (1) underwhelming corporate earnings guidance, (2) suddenly lackluster economic growth and (3) disappointment towards Federal Reserve monetary policy.  Let's take a look at each.
Disappointing Earnings Guidance
Stocks initially dropped in early October as the third-quarter corporate earnings season disappointed markets. While most companies beat consensus estimates, as they often do, profit warnings from select multinational and industrial firms such as PPG Industries (PPG) and FedEx (FDX) highlighted growing concerns from analysts about peak earnings growth for U.S. corporations. These warnings followed second quarter comments from Caterpillar (CAT), which stated on their earnings conference call that Q2 probably marked the "high water mark for the year".  With markets at that time priced for perfection, these warnings caused the S&P 500 to decline 6.84% in the month of October.  
What's next?  In two weeks, fourth quarter 2018 earnings reports will begin in earnest.  If October's lowered guidance was the primary catalyst for the Q4 selloff in stocks, then this earnings season will be one of the most closely watched ones in over a decade, as companies face difficult comparisons to last year as a result of profit-generating tax cuts and weaker dollar, not to mention that there were very little trade tensions a year ago.  Earnings warnings are like cockroaches – when you see one – there's always more.  If guidance is poor again this quarter, then the old adage when buying a used car may be appropriate – Buyer Beware!
Decelerating Economic Growth
In Q4, earnings concerns were compounded by suddenly disappointing economic readings, both in the U.S. and abroad.  Multiple economic indicators including manufacturing surveys and the November jobs report missed Wall Street consensus estimates.  Additionally, market-based indicators, such as the sharp drop in oil and copper prices, declining bond yields, poor demand for semiconductors, declining home and auto sales, negative Q3 GDP growth in both Germany and Japan, and China's manufacturing sector declining in December, all added to the list of headwinds on stocks.
Federal Reserve Policy
Uncertainty regarding U.S. monetary policy in the wake of the December rate hike by the Federal Reserve added yet another source of concern for investors, and that additional unknown caused a massive spike in market volatility in late December. Specifically, the Fed increased interest rates for the fourth time in 2018, despite the declines in stocks and wavering economic data, and has also signaled it expects to increase rates twice more in 2019. The Fed is worried that tight labor markets will continue to push wages higher and spur inflation.  However, with the global economy showing signs of a slowdown (see above), inflation may just take care of itself as demand weakens.  The Fed's decision, which was more restrictive than investors were hoping for, caused stocks to plunge as the major equity indexes dropped to fresh 52-week lows during the final two weeks of December. Markets did bounce modestly during the final days of 2018 to finish off the worst levels of the year, but still solidly negative on an annual basis.
Bottom Line:  Almost every bull market ends with a Fed policy mistake and evidence is mounting that we may be on the verge of such a mistake as it appears the Fed may be overestimating the strength of the U.S. economy amidst several headwinds.
1st Quarter and 2019 Outlook
Investors begin 2019 reeling from the worst quarter in years and with markets facing multiple headwinds including an uncertain outlook for corporate earnings, potentially slowing economic growth, and a lack of clarity on Fed policy. Yet, at the same time, these concerns have been at least partially acknowledged by the markets as the major U.S. stock indices begin 2019 more than 10% off their 2018 highs, as expectations for earnings and economic growth have been reduced. 
At a minimum, we can expect continued volatility in stock, bond and commodity markets in the coming months. And, whether the markets continue the fourth-quarter declines or rebound will depend largely on the resolution of those three uncertainties facing markets: Earnings, economic growth and Fed policy.
Regarding earnings, the bulk of the fourth-quarter 2018 earnings results will be released this month, so within the next few weeks we should learn whether U.S. corporate results have stabilized, or whether the disappointing guidance we saw from companies in Q3 continued.
Economically, investors will be focused on widely followed economic reports (including the December Employment Situation Report, ISM Manufacturing PMI, Retail Sales, Core PCE Price Index) to determine whether U.S. economic growth has indeed peaked. 
From a Fed policy standpoint, the next Fed meeting occurs at the end of January, but there's an important change in Fed procedure to consider in 2019. Fed Chair Jerome Powell will hold a press conference after each meeting in 2019 (the change was announced well before the recent market volatility). That additional, regular communication should afford the chairman the opportunity to communicate more effectively with investors and potentially resolve uncertainty regarding Fed policy. 
Finally, we begin 2019 with numerous geopolitical situations to watch. First, the U.S.-China trade talks are ongoing and there remains hope that the two sides will reach an agreement to reduce existing tariffs before the 90-day negotiation period expires. In Europe, Brexit remains unsettled, although negotiations among Britain's largest political parties continue in an effort to approve the Brexit agreement with Europe.
Bottom Line:  We understand the risks facing both the markets and the economy, and we are committed to helping you effectively navigate this challenging investment environment. Successful investing is a marathon, not a sprint, and even intense volatility like we experienced in the fourth quarter is unlikely to alter a diversified approach set up to meet your long-term investment goals.  We also understand that volatile markets are both unnerving and stressful, and we thank you for your ongoing confidence and trust. Rest assured that our entire team will remain dedicated to helping you successfully navigate this difficult market environment. 
Please do not hesitate to contact us with any questions, comments, or to schedule a portfolio review.
Wealth Management – Are You on Target?
With the new year here, now is a good time to evaluate your financial, as well as personal well-being.  However, before you can do that you should assess where you stand on various issues.  To assist you with this task, we have compiled a list of items for you to evaluate.  Within each of the following areas, circle the number that best represents your level of satisfaction (7=completely satisfied; 4=content; 1=completely dissatisfied).
| | |
| --- | --- |
| Understanding your financial situation (Clarity on future goals and plans to achieve them) | 1   2   3   4   5   6   7 |
| Current income (From all sources) | 1   2   3   4   5   6   7 |
| Savings rate (For kids' education, retirement, etc.) | 1   2   3   4   5   6   7 |
| Debt (How much, rate charged, type of debt) | 1   2   3   4   5   6   7 |
| Risk exposure (Overall level of risk to your entire financial situation, including adequate insurance coverage) | 1   2   3   4   5   6   7 |
| Investment portfolio (Appropriate for your goals and objectives, risk tolerance, & time horizon) | 1   2   3   4   5   6   7 |
| Tax strategy (Minimize taxes on debt, savings, and investments; Are transactions structured properly?) | 1   2   3   4   5   6   7 |
| Estate Plan (Do you have one?  Is it up to date? Are trusts properly funded?  Are beneficiary designations proper?) | 1   2   3   4   5   6   7 |
| Personal relationships and health | 1   2   3   4   5   6   7 |
Now you can start to formulate those resolutions!  Let us know how we can help.
Quarterly Thought – Volatility
Since 1871, the market has risen or fallen by more than 20% two out of every five years.  This unprecedented 10-year bull market run has made investors forget that volatility is the norm, not the exception.  It should be planned for and diversified against because the average investor will experience about 10 to 15 bear markets during their lifetime. 
(734) 667-5581

Pinnacle Wealth Management Group, Inc.
Securities offered through Private Client Services, Member FINRA/SIPC. Advisory products and services offered through Pinnacle Wealth Management Group, Inc., a Registered Investment Advisor. Private Client Services and Pinnacle Wealth Management Group, Inc., are unaffiliated entities.​